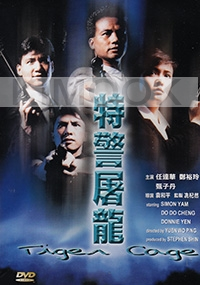 Language
: Cantonese,Mandarin
Subtitle
: Korean,Japanese,English,Chinese S T(

What is it ?

),Thai Bahasa Vietnamese
Media
: DVD All region PAL
Genre
: Action
# of Disc
: 1 Disc
Product code
: 3300489

$14.95

| | | |
| --- | --- | --- |
| | | "Our DVD price includes US Media Mail Shipping - within the US only" |
Although several actors reappear from Tiger Cage, Tiger Cage 2 is not a sequel to the first film, although it is a cop story and it delivers nonstop action. Yen stars as a recalcitrant ex-cop, and he demonstrates a (mostly untapped in other movies) comic flair. In the story, Yen and divorce lawyer Rosamund Kwan witness a robbery gone bad, and as a result, the cops think they are the murderers and the criminals (led by Robin Shou) think they have the money.


Many consider the fight scenes to be some of the best in the history of action movies; they?e almost feral. Yen? choreography and combination of fighting styles are awe-inspiring. In one sequence, Salvitti? sword scrapes along a chainlink fence, shooting sparks and challenging Yen. Their swordfight is one of the better fight scenes around, with sword thrusts, jabs, and parries creatively combined with kicking as both push off from walls, spin, and strike. Yen delivers the coup de gras with a slice to Salvitti? neck. A brief respite and moment of comic relief occurs when Kwan appears, only to punch Yen in the face and consequently get knocked out herself by a single blow. The high octane kicks in as Yen bursts through a warehouse, driving a large truck straight into the drugs and crates; Woods confronts Yen slinging a heavy chain and manages to bind Yen? wrists, and the entire fight has Yen? hands literally tied. What he can? do with his hands, he makes up for with his legs, a signature jumping left back kick, and a few head butts. Despite Woods? wrestling pins, he dies impaled on an iron rod. The warehouse scene continues as Kwan comes to and beats villain Shou with a pipe with a few added hair pulls. Yen fights hand to hand with Shou, but Kwan delivers the final blow with a log to Shou? head. The action alone makes this one a cult classic.